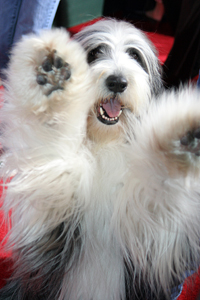 I also, apparently, sit pretty when I want things, and prounce about on a red carpet.

That being said, I am doing everything I can to resist grabbing a pair of scissors and running to the bathroom to chop at my bangs.

I am determined to make it through to Saturday, when I have an appointment with the lovely Tasha for a cut and colour.

But the bangs...they are looking at me, and begging to be cut. It is making my monkey crazy.